Albany Criminal Defense Lawyer Matthew Hug
ATTORNEY MATTHEW HUG
Matthew C. Hug is a graduate of Albany Law School (summa cum laude) as well as a graduate of the State University of New York at Albany (M.A.; B.A.).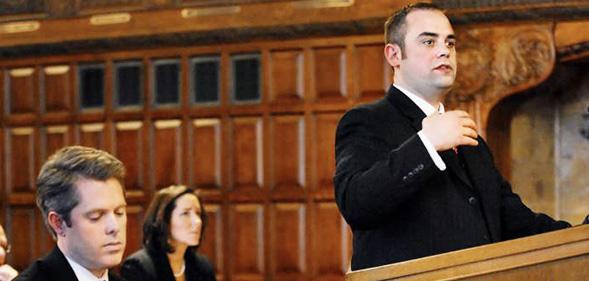 Prior to opening this practice, Mr. Hug served as an Appellate Court Attorney with the New York State Appellate Division, Third Judicial Department. Following his tenure with the court, in 2005, Mr. Hug opened this law office. Since that time, Mr. Hug has represented individuals, businesses and not-for-profit organizations in a wide variety of legal concentrations. The practice has a focus on appellate law, criminal law and personal injury as well as commercial litigation, municipal litigation, real estate transactions, zoning, planning and Article 78 proceedings. His practice area is primarily in the Albany, Schenectady, Troy and Saratoga Springs area of Upstate NY.
He has presented cases to the New York State Court of Appeals (NY's highest court) on four occasions, including the landmark case of People v. Weaver. In Weaver, Mr. Hug successfully argued that the government should not be permitted to track the movements of citizens by way of GPS devices on automobiles without first securing a warrant based upon probable cause. At the time, some state and federal courts had permitted such intrusion without a warrant. As a result of Mr. Hug's advocacy, that was supported by numerous national and state organizations, the tide turned in privacy laws not only in the State of New York, but across the nation. And, when the US Supreme Court addressed the issue, they cited Mr. Hug's case in Weaver, when they declared that a warrant would be required across the nation before the police attach a GPS device to a citizen's car for the purpose of tracking their movements. A video of Mr. Hug's advocacy at oral argument is still posted for viewing on the Court of Appeals' website.
Mr. Hug has been invited to speak at Fordham University Law School and numerous other organizations. He has recently been recognized as one of the best attorneys in the State of New York under 40 years of age by SuperLawyers®. He is also a Deputy Town Attorney and special counsel to an Industrial Development Agency.
Memberships and Associations
New York State Defenders
Rensselaer County Bar Association
National Association of Criminal Defense Lawyers (former member)
Published cases include:
People v. Mercado, __ AD3d __ (Jan. 16, 2014)
People v. Robles, __ AD3d ___ (Jan. 16, 2014)
People v. Price, ___ AD3d ___ (Jan. 9, 2014)
People v. Forbes, 111 AD3d 1154 (3rd Dept. 2013)
Albany Engineering Corp. v. Hudson River Black River Regulating Dist., 110 AD3d 1220 (3rd Dept. 2013)
People v. Augustine, 21 NY3d 949 (2013)
People v. Ballenger, 106 AD3d 1375 (3rd Dept. 2013)
People v. Musto, 106 AD3d 1380 (3rd Dept. 2013)
Wood v. Tuttle, 106 AD3d 1393 (3rd Dept. 2013)
Scott VV v. Joy VV., 103 AD3d 945 (3rd Dept. 2013)
Calabrese Bakeries, Inc. v. Rockland Bakery, Inc., 102 AD3d 1033 (3rd Dept. 2013) In re James WW, 100 AD3d 1276 (3rd Dept. 2012)
People v. Hira, 100 AD3d 922 (2nd Dept. 2012)
People v. Porter, 101 AD3d 44 (3rd Dept. 2012)
Roberts v. LaCross, 99 AD3d 1065 (3rd Dept. 2012)
Stevens v. Gibson, 99 AD3d 1052 (3rd Dept. 2012)
People v. Augustine, 19 NY3d 1042 (2012)
Belcher v. Lawrence, 98 AD3d 197 (3rd Dept. 2012)
Troy Nursing & Rehabilitation Center, LLC v. Naylor, 94 AD3d 1353 (3rd Dept. 2012) People v. Ebron, 90 AD3d 1243 (3rd Dept. 2011)
People v. Augustine, 89 AD3d 1238 (3rd Dept. 2011)
People v. Buswell, 88 AD3d 1164 (3rd Dept. 2011)
Wilson v. Hendrickson, 88 AD3d 1092 (3rd Dept. 2011)
People v. Lewie, 17 NY3d 348 (2011)
People v. Nisselbeck, 85 AD3d 1206 (3rd Dept. 2011)
People v. Tyrell, 82 AD3d 1352 (3rd Dept. 2011)
People v. Wright, 81 AD3d 1161 (3rd Dept. 2011)
Roberts v. Roberts, 81 AD3d 1117 (3rd Dept. 2011)
People v. Drayton, 79 AD3d 1529 (3rd Dept. 2010)
Kowalsky v. Converse, 79 AD3d 1310 (3rd Dept. 2010)
People v. Andrews, 78 AD3d 1229 (3rd Dept. 2010)
People v. Williamson, 77 AD3d 1183 (3rd Dept. 2010)
Sandulescu v. Caico, 77 AD3d 1121 (3rd Dept. 2010)
Fitzpatrick v. Fitzpatrick, 77 AD3d 1108 (3rd Dept. 2010)
People v. Lewie, 15 NY3d 789 (2010)
People v. Jean-Louis, 74 AD3d 1481 (3rd Dept. 2010)
People v. Manos, 73 AD3d 1333 (3rd Dept. 2010)
People v. Wicks, 73 AD3d 1233 (3rd Dept. 2010)
People v. Lewis, 72 AD3d 1294 (3rd Dept. 2010)
People v. Tuszynski, 71 AD3d 1407 (3rd Dept. 2010)
People v. Payne, 71 AD3d 1289 (3rd Dept. 2010) LaFountain v. Gabay, 69 AD3d 994 (3rd Dept 2010) People v. Hebert, 68 AD3d 1530 (3rd Dept 2009) Dickerson v. Robenstein, 68 AD3d 1179 (3rd Dept. 2009) People v. Lewie, 67 AD3d 1056 (3rd Dept. 2009)
People v. Meacham, 63 AD3d 1371 (3rd Dept. 2009) People v. Weaver, 12 NY3d 433 (2009)
People v. Clark, 61 AD3d 1179 (3rd Dept. 2009) People v. Moore, 59 AD3d 809 (3rd Dept. 2009) People v. Maye, 12 NY3d 731 (2009)
McGovern v. McGovern, 58 AD3d 911 (3rd Dept. 2009)
In re Rehabilitation of Frontier Ins. Co., 57 AD3d 1302 (3rd Dept. 2008)
Ross v. Sperow, 57 AD3d 1255 (3rd Dept. 2008)
People v. Guthrie, 57 AD3d 1168 (3rd Dept. 2008)
People v. Mitchell, 55 AD3d 1048 (3rd Dept. 2008)
People v. Roberts, 54 AD3d 1106 (3rd Dept. 2008)
Loriann Q. v. Frank R., 53 AD3d 735 (3rd Dept. 2008)
People v. Hull, 52 AD3d 962 (3rd Dept. 2008)
Clarke v. Town of Sand Lake Zoning Board of Appeals, 52 AD3d 997 (3rd Dept. 2008) Kahn v. Levy, 52 AD3d 928 (3rd Dept. 2008)
People v. Burry, 52 AD3d 856 (3rd Dept. 2008)
People v. Carter, 51 AD3d 1139 (3rd Dept. 2008)
Associates First Capital v. Crabill, 51 AD3d 1186 (3rd Dept. 2008)
Russo v. Irwin, 49 AD3d 1039 (3rd Dept. 2008)
In re Shontae R., 48 AD3d 1006 (3rd Dept. 2008)
People v. Griffin, 48 AD3d 894 (3rd Dept. 2008)
People v. Carey, 47 AD3d 1079 (3rd Dept. 2008)
Rivera v. Tomaino, 46 AD3d 1249 (3rd Dept. 2007)
Empie v. Empie, 46 AD3d 1008 (3rd Dept. 2007)
People v. Mendez, 45 AD3d 1109 (3rd Dept. 2007)
People v. Rivers, 43 AD3d 1247 (3rd Dept. 2007)
Gold v. DiCerbo, 41 AD3d 1051 (3rd Dept. 2007)
People v. Hall, 41 AD3d 880 (3rd Dept. 2007)
Filippelli v. Chant, 40 AD3d 1221 (3rd Dept. 2007)
People v. Clark, 39 AD3d 1091 (3rd Dept. 2007)
People v. Hilliard, 39 AD3d 1021 (3rd Dept. 2007)
In re Kayla F., 39 AD3d 983 (3rd Dept. 2007)
McCaffrey v. Town of East Fishkill, 42 AD3d 22 (2nd Dept. 2007)
Wendy Q v. Richard Q., 36 AD3d 1000 (3rd Dept. 2007)
People v. Branton, 35 AD3d 1035 (3rd Dept. 2006)
People v. Chamberlain, 35 AD3d 961 (3rd Dept. 2006)
People v. Charland, 30 AD3d 838 (3rd Dept. 2006)
People v. Walker, 30 AD3d 823 (3rd Dept. 2006)
Hostetler v. Montanye, 30 AD3d 720 (3rd Dept. 2006)
People v. Trotter, 28 AD3d 947 (3rd Dept. 2006)